Learn how to set up a wireless LAN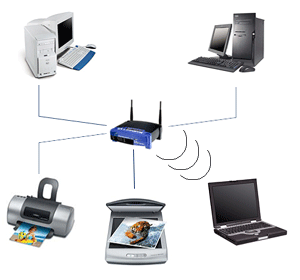 Network Topologies

The most popular network method because of the low price of the network cards, reliability and speed; but it can be a pain to run the wires through your home.
Wireless 802.11b: 11 Mbps
802.11b is now the standard for wireless networking in both the home and business. It has become inexpensive, has good speed but may not is not appropriate for secure communications.
Read more...
There are a few different setup scenarios for wireless home networks, depending on whether you already have a modem and a wired router. In this step-by-step tutorial we'll assume that you already have a broadband connection with a cable or DSL modem but don't yet have a router, and that your computer is currently plugged directly into your modem.

Read more...